J'aime des pommes de pin!  Translation:  "I love pine cones!" They are one of nature's most exquisite yet simple design elements. In preparation for the holidays, I searched the globe for some of the most beautiful and unique decorating ideas using des pommes de pin.
Create a simple and organic look using a base of twine as featured on
Carnets de Daniele
. An oversized spool of thread would work just as well for that avid seamstress. I also love the use of twine in the garland with red felt hearts from
Vechernie-posidelki
. The rope and burlap bow (below),
"toute simple, avec de la corde brute et des rubans ou de la dentelle dans des coloris assortis
"  and the natural garland of pine cones, small birch branches and bleached wood is also from
Comme Un Air de Fete
. Very creative and yet a very easy diy project.
Rope and burlap bow
Toute simple et naturelle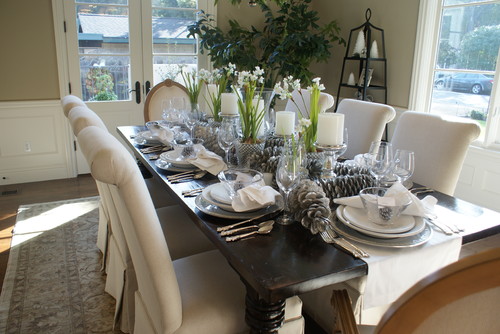 Using a burlap runner and natural-colored pine cones keeps it clean, organic and a bit rustic. From
The Natural Wedding Company
. Je l'adore!
Displaying pine cones in antique silver bowls, trays or mercury glass containers combines the simplisticness of nature with timeless elegance. Spraying them white or metallic adds to the splendor.
Want to keep it simple? By simply placing pine cones in a natural-looking container such as ordinary terra cotta planters, a wire basket, garden pots or wooden bowls (with or without mistletoe and pine needles) their innate beauty is revealed. Ou tout simplement….
Using pine cone pieces to create other objects adds a very unique and fun twist to the season. Here are some examples from one of my favorite stops, The Farmhouse Store in Princeton, New Jersey.
Add a touch of elegance while keeping that rustic undertone with small pine cone snowflakes and ornaments suspended from twine on a Christmas tree. Or, incorporate a string of gems or beads with pine cones from your chandelier. Adding a clean white ribbon to a pine cone wreath definitely adds a feel of sophistication. Lace can add an accent of femininity or a relaxed homey feel.
Pine cones can also be incorporated into a unique and personal Holiday gift. I love using them along with natural greens as an accent piece to wrapping paper. Mes Petites Mains Magazine features pine cones on winter wedding favors.
For the friend who loves nature, these pine cone candle holders are a unique and rustic gift. They aren't too expensive either – only $20 USD for the pair from Ballard Designs.
A unique gift you can make yourself (as featured on C'est bientot noel) are pine cone fire starters. Just add a personal label or place them in a small gift box or basket that can be placed on a fireplace hearth. Tres Cozy!
You can also purchase an inexpensive glass hurricane, insert a candle or tea light and accent with twine and pine cones! Very cute. A gift any home décor lover would adore.
Another unique gift that my daughter and I want to try and make are pine cone earrings. Our neighborhood is full of tiny pine cones. We may even keep a pair for ourselves!
 A garland of pine cones hanging from a clean white ribbon, twine or  burlap is a beautiful and simple accent. Add a personal touch by painting the pine cones in colors to match your own décor.
Try creating a wreath with pine cones in an unusual shape (heart or star instead of just a circle) and incorporate mistletoe, berries, cinnamon sticks or evergreen branches.
I hope you enjoyed my collection of unique des pommes du pin creations. I am now globally inspired to tackle some knockoff pine cone projects for myself. Let me know what you think. I would love your input. J'aime des pommes du pin!