Just thought I'd share some of my favorite inspiring decorating ideas for Autumn.  Viva la decoration automnale! I just love autumn on the east coast.
I love the touch of gold in this otherwise simple décor.
Cute idea to suspend mini pumpkins from otherwise bare branches. From http://www.shelterness.com/.
I love the monochromatic combination of the mums and pumpkins on the steps.
Great idea to use pumpkins as vases for mums. The white pumpkin adds a bit of a twist and elegance.
Here again white pumpkins are used, but mini ones this time around. The burlap and pistachios add an organic and natural touch. They are glued onto a Styrofoam base. Could also use a plain grapevine wreath as a base to add even more of a natural flavor.
I love pears paired with evergreen, but the combination of pears with fall leaves is unquestionable. I love the simple elegance.
Placing mini pumpkins at the bottom of clear glass vases is an unexpected touch. Adds additional color and pop to the beautiful fall stems.
A simple yet festive idea is to use candy corn. Who doesn't love candy corn? Simple mason jars paired with orange candles and candy corn will add color and fun to any décor. I'm going to try this one myself!
From Martha Stewart, a simple and elegant all white autumn display. For those crafter/home interior designers who appreciate a more simple touch. J'adore!
What could be more fun for kids than cut-out oranges full of m&m's? Love the simple and inexpensive treat!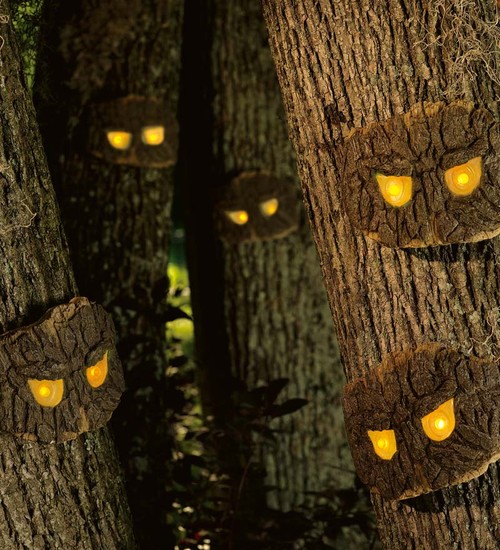 From Plow & Hearth, tree faces! Very unique and scary too!